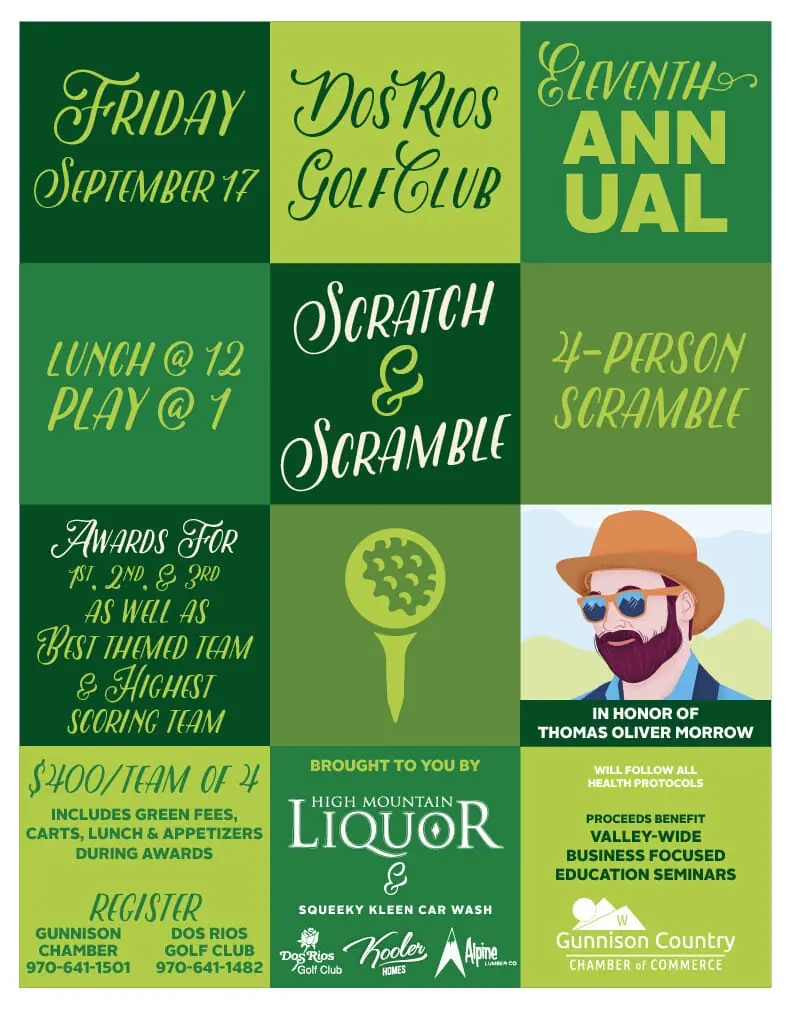 Golf Tournament - Friday, September 17, 2021
Sponsored by High Mountain Liquor with Squeeky Kleen Car Wash and  Alpine Lumber & Kooler Homes hosted by Dos Rios Golf Club and The Gunnison Country Chamber of Commerce.  The Annual Gunnison Chamber Golf Tournament is a day of fun in the sun!
Contact the chamber -- chamber@gunnison.com or 970-641-1501 to register or use this form.
11th Annual Scratch & Scramble – Friday, September 17 2021
Dos Rios Golf Club
Team Registration
Team Name_______________________________________________
Team Sponsor_____________________________________________
Golfer 1:         ____________________________________________________
name & handicap
Golfer 2: ___________________________________________________________
name & handicap
Golfer 3: ___________________________________________________________
name & handicap
Golfer 4: ___________________________________________________________
name & handicap
Payment information Cost:  $400 per team of 4
Contact:____________________________________________________
Phone number_____________________________________________________
Email address _____________________________________________________
IF YOU WOULD LIKE TO REQUEST A COURSE SIGN FOR THE DAY TO BE PLACED ON THE GREEN
___________________________________________________________  $100.00 EACH SIGN
Check enclosed in the amount of $__________
Mail to:
Gunnison Country Chamber of Commerce /  500 E. Tomichi / Gunnison / 81230
Or if you would like to pay via credit card please call
the chamber at 970-641-1501